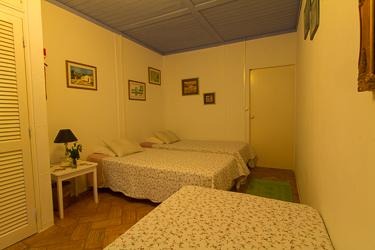 Rã
Room with two single beds and an extra bed. It is a room that sleeps 3 people.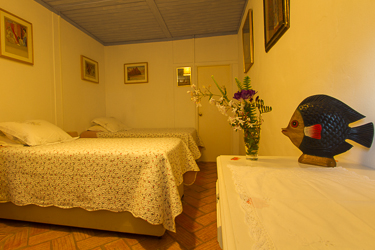 Pim Pao
This is one of our rooms with two single beds, however, there is room for a third person if required.
Javali & Borboleta
Boar and Butterfly are two rooms, overlooking the lake and are ideal for those who want a family accommodation. Ideal also as Honeymoon Suite or accommodation for a group of friends, because its size is quite pleasant. These rooms share a large bathroom with a separate bath and shower. The two bedrooms are an affordable option for large families.
Gato
The Cat, is a double room with a double bed and private bathroom, next to one of the farm lawns.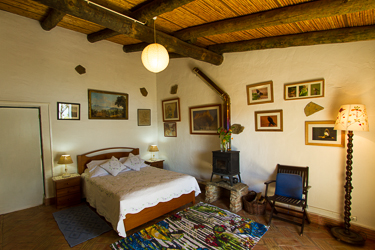 Andorinha
Our honeymoon suite is heated through a wood burning stove and also has a very small bedroom with bunk beds. In addition, it has a large private terrace where you can enjoy the views of the dam and is safer for small children because it is fenced.
Águia
It is the smallest room on the Quinta and is the cheapest. It also has the smallest bathroom .... But in terms of bathtub is the greatest!
Abetarda
The Abetarda, is a room with double bed and private bathroom, in the oldest part of the Quinta.
Pesca Peixe
Bedroom with double bed plus an extra bed. It is a room that accommodates 3 people.
Cão
Bedroom with double bed and private bathroom, next to the Quinta's library.
Grades:

- Mid Season - 07.Março to 17 July + 08.September to 31.October
- High Season - 18.July to 07.September
- The Quinta is closed from 1 November to 7 March, but is open for Group bookings. For any group booking, please contact us via email.
- Extra bed - € 25 (The Quinta has 8 double rooms and two family suites)
- All rooms are for two people, unless you wish extra bed, which has a value of 25 € all year round (this price does not change, even when sometimes discounts or promotions are applied). The baby bed is free, but not always available, it is advisable to reserve it at the time of booking.
- If a room has a double bed and an extra bed as standard (such as Fish-fishing), the extra bed will not be charged, only if it is used by a third person.
- A bunk bed for two children counts as two extra beds and only with one child will count as an extra bed.
- The Quinta has two large and wonderful suites:
• The Swallow suite - a large bedroom with double bed and a small bedroom with a bunk bed. The private and spacious terrace with a direct walkway to the lake, isolated from other guests, is an ideal option for those who want an unforgettable honeymoon or prefer a truly heavenly nook.
• And the Boar and Butterfly Suite - a large room with a double bed and a bedroom with two single beds and a bunk bed, connected to each other by the spacious bathroom (with bath and shower) and a private terrace common to both bedrooms, Where you can enjoy privacy, being perfect for those seeking tranquility. This option is ideal for groups of friends, large families, families with children or young teenagers and is prepared to receive people with motor difficulties.
Meals:
- The continental breakfast is included in the price of the room.
- Lunch is € 15 per person and € 9 per child (up to the age of 14) and consists of a "serve yourself and eat what you want" buffet in a selection of hot and cold dishes , Followed by dessert. Coffee and water are included but the drinks (soft drinks and wine / beer) are separate.
- Dinner with the price of € 22.5 per adult and € 15 per child (up to the age of 14), consists of the couvert, starter, main course, dessert and coffee. Drinks are not included, so you can choose from a varied range of our wine list and choose from a range of non-alcoholic drinks, also available at the Quinta's bar.
- We would like to add that you will have the opportunity to meet people from different parts of the world, because in this special moment of the Quinta, dinner is served at a beautifully decorated table with local specialties, international flavors and enjoying the fun, Fireplace or overlooking the lake through a very special window.
Note: Please note that if you book dinner, it will be charged if you do not show up or cancel it in a timely manner. The nearest restaurants are in Saboia (16 km), Nave Redonda (30 km) or Odemira (45 km).
Cancellation Policy:
- We reserve provisional reservations only for 24 hours; After exceeding this limit, without the required deposit, the provisional reserve will be canceled.
- The deposit requested is at least the equivalent of 2 nights for short stays, or 25% of the total value of the stay for longer bookings. There will be no refund of the deposit whenever the cancellation occurs in the week before the reservation. Deposits are not transferable for other dates.