Hotel Baltum
We wait for you for a pleasant stay.
The Hotel Baltum is the oldest and most famous hotel in the city of Albufeira.

Located in the heart of this old fishing village, Hotel Baltum is located about 100m from the famous Fisherman's Beach, the place of choice for the most spectacular shows in the Algarve.

If we talk about the proximity of the Hotel with the beach and the sea, we can not fail to mention the even closer proximity to the whole area of ​​restaurants, bars and commerce of the city, considered Portuguese Tourism Capital. The huge diversity of culinary offerings around you will not make it easier for you to choose a great romantic or family meal.

About 30 minutes from Faro International Airport and surrounded by the most beautiful beach of the Algarve Region, Hotel Baltum assumes an odd centrality and is a fantastic starting point for those who want to know the region during their vacation.

Remodeled in 2014, this hotel offers a total of 51 rooms to its guests, featuring four different types of rooms; Non-Balcony Rooms, Rooms with Balcony, Superior Rooms and Family Rooms for 3 and 4 people.

Hotel Baltum offers free Wi-Fi internet in all rooms and public areas.
The elegant decoration of the rooms with a predominant blue and white tone, accompanied by a light gray wood floor are due to the strong relation with the sea, due to its proximity.

With the aim of increasing the comfort of guests in their stay, all rooms are equipped with air conditioning, LCD TV, direct dial telephone, safe, private bathroom with amenities.

Included in the Hotel Baltum, guests can also access the Italian restaurant "Urban Pizza". The "Urban Pizza" Restaurant offers Italian food with a service characterized by speed, quality and a rigorous selection of ingredients providing a special gastronomic experience.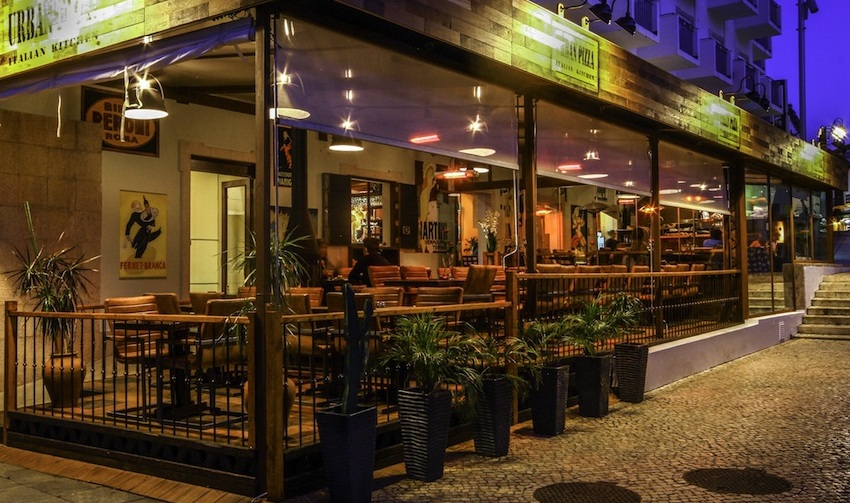 In this unique dining space for its modernity and comfort, guests can have access to varied types of meals, from breakfast, lunch, snacks, dinner or a simple drink of relaxation after a fantastic day at the beach.


Located on the top of the hotel baltum this lounge bar has become one of the most requested spaces in the center of Albufeira. Designed and built for the comfort of the hotel residents. B Rooftop gives you a never seen before magnificent/panoramic view of the center of Albufeira.
With a large variety of cocktails, music and good service it invites everybody to enjoy a drink late afternoon or early evening. It also provides an area with sun beds and a jacuzzi with a sea view that offers our guests a unique and memorable moment of relaxation and well-being.
Due to its proximity to the beach and the sea, our guests can enjoy numerous activities such as deep-sea fishing, deep-sea fishing, surfing, windsurfing, diving, swimming, boating, cave tours, Algarve, beach volvolei, beach volleyball, among others.

Within a short distance of the Hotel as well as Albufeira's city center, guests will also have access to other leisure activities for the whole family, as well as water parks (7 km), Shopping Center (2 km), Golf (6 km), among others.

Enjoy, relax and enjoy the excellent location of Hotel Baltum. In this hotel having transportation to move somewhere is not a necessity, but rather an option. From here, discover Albufeira and its history